The Big Boing is currently closed due the Government Directive.   We hope that all our customers and their families stay safe in this time.    We hope that all business survive this awful time and that customers continue to support local businesses on the Sunshine Coast.
School Day special has returned.   Monday – Friday 9am – 12pm, 12pm – 3pm, Monday – Thursday 3pm – 5pm.    $12 for under 140cm, $16 Students, $19 general jumper plus grip socks $4
Fly through the Air!  Rebound off the walls! Slam dunk like a Pro! Soar higher than ever!
Over 50+ interconnected trampolines are FUN for the whole family.
Challenge your friends on the Ninja course, practice your slam dunks, pull some aerial moves, dodge a ball or jump, jump "til you cant jump no more"!
Chill in the air-con all year 'round and grab a cold drink from the cafe to fuel your fun!
DON'T FORGET!
We do events of ANY kind, there's designated areas for the little's AND babies under 1 are free with a paying sibbling!
IMPORTANTLY….
Safety's super important, so JUMP SAFE and STAY WITHIN YOUR LIMITS and HAVE FUN!
Important Information
Normal Opening Hours – Each Session starts on the hour   Grip Socks are required for every person jumping
Monday- Saturday 9am – 5pm
Sunday 9am – 3pm.
Save by Booking online, as there is a credit card surcharge paying at reception.    Booking online is highly recommended especially on weekends and holidays, as peak periods will sell out.    Book ONLINE here.
Phone bookings can be made, but you must pay on the phone for the booking, unless you are paying by cash.
Sessions times:   Each session start on the hour from 9am.   Arrive early sessions start promptly on the hour.  Recommend 15 mins during peak periods.
Please note that grip socks are required to enter any jumping area and toddlers area.   Socks can be purchased for $4.00
GENERAL JUMPER  – $19 includes Ninja Course bring sports shoes plus $4 for Grip Socks if don't have already
Access to all our main trampoline areas including the Ninja Course, Basketball, Air Bag, Dodgeball and Main Arena with over 30+ interconnected trampolines.    Not allowed in Junior Area.
Please note the Ninja is strictly for participants over 120cm and is therefore not accessible by children under 120cm.
General Jumping is for everyone over 120cm tall.
Junior jumpers – $12 – under 120cm plus $4 for Grip Socks if don't have already
Junior Jumpers under 120cm for the Junior Jumping area only.   Junior jumpers will be directed to the junior jumping areas (climbing and ball pit and junior foam pit) for their own safety.
Toddler under 2 1/2 years – $6.00 plus $4 for Grip Socks if don't have already
Baby – Under 1 years free with a paying sibbling, otherwise $6.00 plus $4 for Grip Socks if don't have already
Supervisor Pass – $5
Available for guardians not jumping and would like junior jumper to enter main areas, apart from Ninja.    Supervisor must watch all times, but not allowed to jump.    If guardian wishes to jump, must pay general jumper price.
No outside catering permitted. Visit our café for snacks, meals and drinks.
All children under 13 years must be supervised by an adult.
FREE WIFI and FULLY AIRCONDITIONED for those extra warm days!
BIG BOING CAFE
The Big Boing has a cafe to buy all your drinks and food while visiting.
No self-catering permitted
The Big Boing does not allow self-catering except for personal water bottles. The Big Boing does have a cafe which provides hot and cold refreshments.
No Self-catering including personal birthday parties (not booked with The Big Boing) including birthday cake is not permitted.   There is a park across the road, if you wish to have a cake, if party is not booked with The Big Boing.      Big Boing Work Health & Safety does not allow us to give knives out to customers or customers are not allowed to bring knives onto the premises.     A staff member must be in attendance at all times when a knife is being used on the premises.
We hope you understand and your co-operation on this is very much appreciated.
BOOKINGS – Save by booking online
Bookings are on the hour from 9am every day. Please arrive 15 minutes before your booking time to check-in. That way you'll be jumping on time! Book ONLINE here.
Ideal for Parties & Events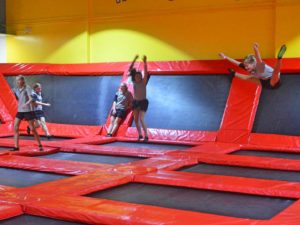 A massive free jumping area, a slam dunk area, dodgeball court, giant airbag, toddlers area with foam pit.
The Big Boing is the perfect venue for your next birthday party, family occasion, or even work or club event.
SEE MORE ABOUT PARTY PRICES AND BOOKINGS…
Fun for the whole family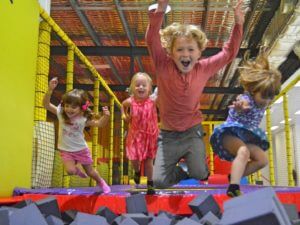 The Big Boing caters for kids of all ages, whatever their fitness and skill level.
And with a creche and group fitness classes, we haven't forgotten parents either.
EXPLORE ALL OF THE BIG BOING FACILITIES…
Highly Sprung About Safety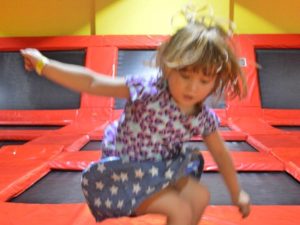 It's important for Big Boing participants to follow set rules, safety guidelines and to jump within their own ability.
We want all our jumpers to make the most of our facilities, but also to leave happy and in one piece!